Frieze Art Fair, Lucky PDF TV, BYOB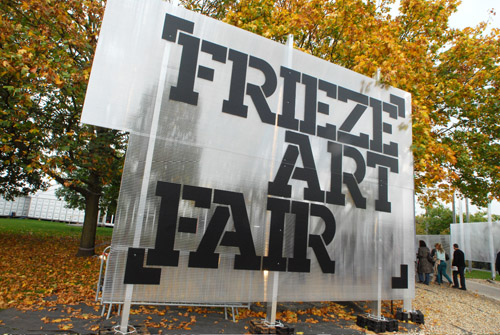 Are you ready?
This is all very last minute… Art collective Lucky PDF has a live daily TV broadcast from the Frieze art fair in London. Hennessy Youngman was going to present today's broadcast but he could not board his plain… Also today's set was built and ready to go but the artist was not happy about something so no set…
No set, no presenter, but luckily I'm in town to save the day. I will host the broadcast from 4 to 5 PM London time, and the set will actually be… A last minute BYOB! 6 or more projections with lots of moving images, many performances, music, interviewing, check it LIVE today at Lucky PDF .com
Today we turn the LuckyPDF set into a BYOB event with Rafaël Rozendaal presenting live from the studio. This BYOB London FRIEZE Art Fair 2k11.
Believe.
Participating Artists:
Anne de Vries
Daniel Swan
DUMP.FM
Iain Ball
Katja Novitskova
If you're coming to Frieze today, bring a beamer and get involved. We can't provide passes to the fair unfortunately.
On Todays Show:
Episode 2: From Frieze Art Fair, This is LuckyPDF TV Friday 14th October 4pm – 5pm GMT
Presented by Rafaël Rozendaal
Featuring:
Tobias Madison
Jack Catling
Juliana Cerquira Leite
Ruth Beale
Christian Jankowski
Takeshi Shiomitsu
Michael O'Mahony
MSHR
Titles by Gili Tal with Mike Lomon and Johnny Scarr
Produced by LuckyPDF
Join us in the studio from Wednesday to watch open rehearsal from 11 daily, or tune in here at luckyPDF.com to watch the live live broadcast Thursday – Sunday.