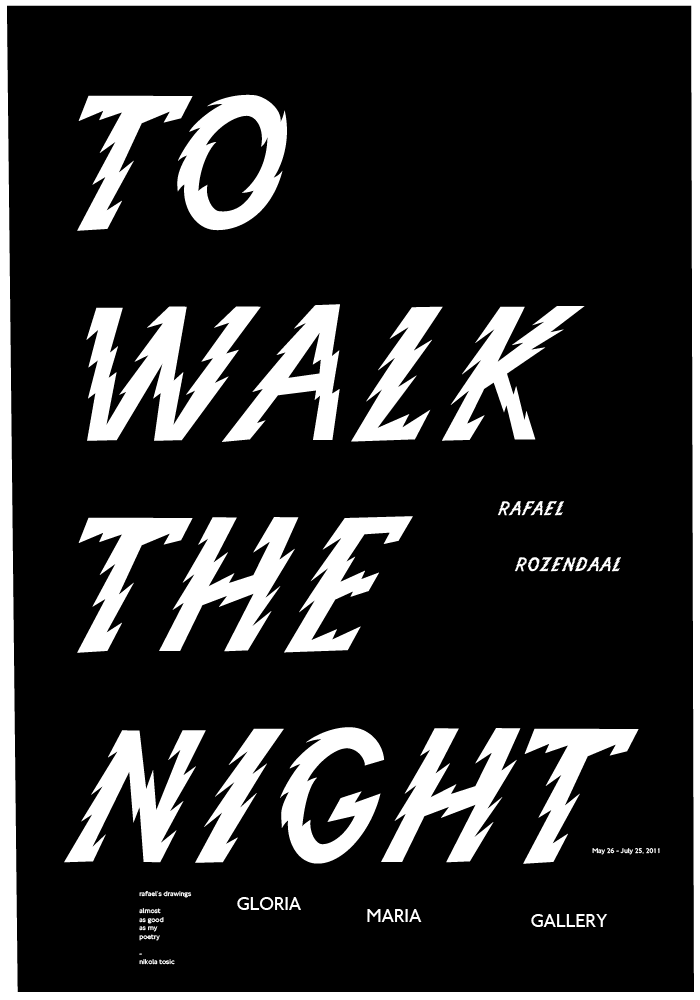 Gloria Maria Gallery is pleased to announce the first solo Italian exhibition of Rafaël Rozendaal:
"To Walk The Night".
Opening: Thursday, May 26, 7:00pm – 9:00pm
Gloria Maria Gallery
May 26 – July 25, 2011
Born in Amsterdam in 1980, Rozendaal has lived and held exhibitions all over the world, Los Angeles, Berlin, Tokyo and London amongst others. Rozendaal is a leading figure of computer art, he creates highly abstract interactive websites as art pieces and sells their domains as collectibles.
His work has a very strongly defined aesthetic – almost simplistic in its approach but executed with a sharp intelligence. He describes the virtual window of a browser being richer than a window in the real world. Working with transient and disposable media reminiscent of Warhol's consumable art practice Rozendaal seeks inspiration from modernist paintings and animated cartoons. In the last 10 years he has created a strong web presence and his websites have generated 1.2 million unique visits monthly.
Rozendaal is willing to expose his web artworks as objects of speculation, much like contemporary art pieces exhibited in an art gallery, but internet – his chosen "gallery" – is much more accessible. Though the pieces are exhibited freely on the internet, the artist decided to display at Gloria Maria Gallery an installation consisting of drawings and mirrors. While disarmingly simple, Rafaël Rozendaal's drawings unfold in complexity through their boldness of concept.
Rafaël Rozendaal lives and works between Amsterdam, Berlin and Rio. He has had solo exhibitions at Sketch, London 2005, Stedelijk Museum in Amsterdam in 2006 and NIMK Nederlands Instituut voor Mediakunst in 2010. Group shows include, The Whitney Biennial 2002, NYC, Neen Demo, Benaki Museum, Athens 2006, Existential Computing, 2007 at The Hayward Gallery, London and Kunsthalle Athena in 2010. He was awarded Rhizome commission for The New Museum, NYC in 2008 and 2010. Rozendaal took part to the File Festival and Rojo Nova Festival both held in Rio de Janeiro, in 2011. He has been also invited to present his work at the DLD 2011 conference, curated by Johannes Fricke in Munich.
Rozendaal is also the founder of BYOB (Bring Your Own Beamer), a series of one-night international exhibitions, soon to be hosted by the 2nd Internet Pavilion during the Venice Biennale, at the prestigious location of the Accademia di Belle Arti di Venezia on the Island San Servolo.