"Art Website Sales Contract" updated version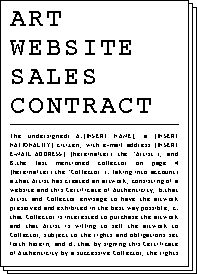 The Art Website Sales Contract is a document I created in 2011. I use it when I sell one of my art websites. The document is both the certificate of authenticty, and a legally binding document between the artist and the art collector. Selling websites as art pieces is still very new, and I hope this document can help any artist who want to sell their art this way.
I think selling a moving image in a domain name is an elegant solution: the work is available to the public, and the ownership is unique, because domain names are unique.
I recently revised the text of the contract together with Steve Turner, my gallerist in LA. We simplified the document, keeping the original ideas but making the text more straight forward.
The document is free to download. (pdf link)